Alternate Architectural Plan Design Services:
In addition to providing what we feel is one of the best most affordable custom house plan designs available, we also do many other types architectural design projects and custom custruction drafting, plans and drawings.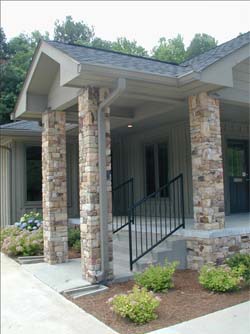 Medical Buildings, Doctor and Dentist Office Plans both "Tenant Build Outs" and Free Standing.
Custom small to medium office building plans.New construction or remodel plan design.
Retail strip center and space build outs, mall tenant finish and free standing shopping centers.
Light Commercial - Office with Warehouse, new construction design and remodel plans.
Small to medium Multifamily Projects (Apartment and Duplex Plans)
Remodeling Plans including Custom Kitchen and Room Addition Plans.
Residential and Commercial Garage, Storage and Out Buildings. New construction or remodeling plans.
General Residential or Commercial Drafting projects of all types by the hour or by the project.
3D Interior and Exterior Commercial Renderings and Images.
A Custom House Plans Designer with an Emphasis in service for Owner Builder's:
We have worked with many clients that were acting as or taking the role of "Owner - Builder's" on their home building project. Our services extend beyond the house plan designs process and we have many resources that can help you if you require. Acting as an Owner Builder is a great way to save money building a house at whatever level you choose to do. Having a source of knowledge and house building resources can make a huge difference to the success of any build it yourself owner built home. We understand that our owner builder clients will need back up and support long past the completed design drawings. It is always our pleasure to be here and help in whatever way we can or required. Our goal is to stick with our owner builders until move in day to insure that they get the most from our services and their new home. In addition we provide some outstanding Owner Builder Resources. If you are considering this as an option for your new house please give us a call 706-348-7020 and let us show you how we can help you. No sales pitch, no hassel, just good straight talk with a frendly attitude always.