Using different textures is a great way to accent and enhance the exterior of your home. It seems that the day of the all brick or all siding house has gone to the minority and the newer multi textured exterior is now the preference of many builders and is directly driven by the consumers demand for it. All of my builder clients that concentrate mainly on spec homes are doing it now. Large home small home formal or rustic it seems to be the norm today. The same with my non-professional clients also. Even a simple ranch will have at least two different complimenting exterior materials creating textures, most will have three or more. Brick, Stone, Stucco, Horizontal Siding, Vertical Siding and even Cedar Shakes all used to bring the front façade to a stunning and interesting piece of eye candy and I for one approve.
The image above is a good example of the use of traditional brick with stone accents and the beautiful "Real" cedar posts on the front porch. The image below is a zoomed out frame showing the full front of the house allowing you to see how the different textures look together but more important how the placements were done to draw the eye to the front door. Using different textures can help you create the focal point or to emphasize a part of the façade.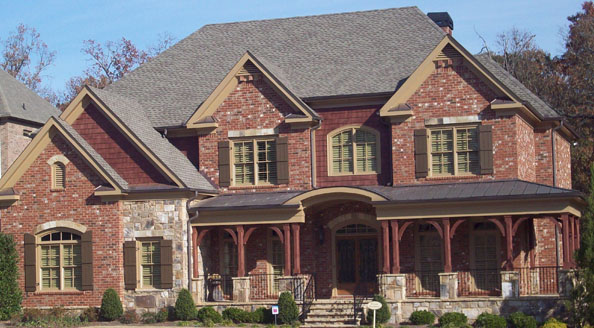 The house below is more conservative and formal but still is a great use of different finishes as well as the natural mixed color of the stone work. I also like the use of the rustic shutters versus the typical paneled or louvered look. Adds some "Rustic" to the whole facade in a simple inexpensive way.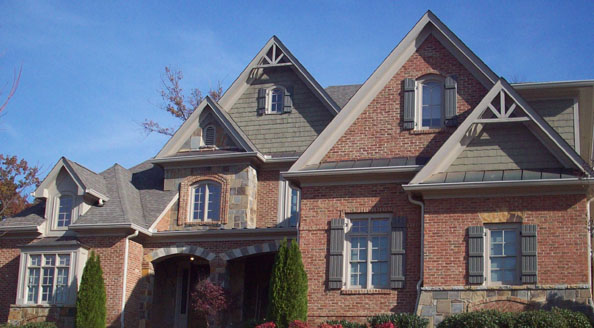 The image below is a great example of not only using different wall materials but also different roofing materials to add accent and interest. Also I love how they used the different textures to draw the eye to the prominent double gabled end of the garage. Very bold and very unique.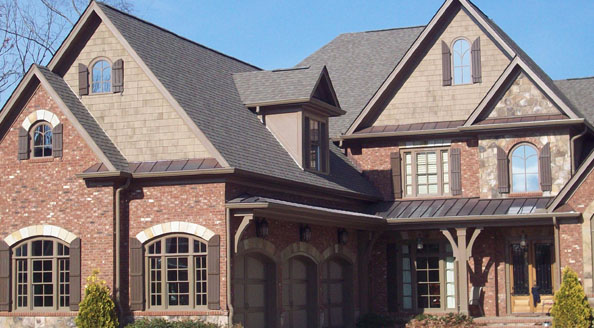 All in all it certainly has given the designer an interesting canvas to work with and numerous choices to draw from. The rustic traditional look is easier on the eye and brings together the home, the surrounding nature and the personality of the owner. As I said, I approve!