I'm on the second story deck of my Georgia home, it's a sunny day and the strains of Otis Redding's famous classic "Sitting on the dock of the bay" keep running through my head. "Sittin' in the morning sun, I'll be sittin' when the evening comes". So true!
The deck is my year 'round connection to nature. It brings the outdoors in, gives me a cozy, private spot to read and relax and extends my indoor living space when entertaining.
The deck is my year 'round connection to nature. It brings the outdoors in, gives me a cozy, private spot to read and relax and extends my indoor living space when entertaining. It's the perfect place to hold a barbecue, birthday party or enjoy a drink with friends. I have all the basics-- a grill, comfortable furniture including a two-person swing and plenty of space for socializing. The backyard view is breathtaking and I can hear the sound of the river and a distant waterfall which at night sounds like rain on the metal roof.
The deck is pressure treated lumber and it's painted a neutral gray to blend in with the home's exterior. It was part of the plans when the house was designed and built. The wood is traditional, the feel--warm and welcoming. It also requires upkeep, maintenance and occasional repairs.
My daughter and her husband recently built a deck at their vacation home on a lake in Alabama. The deck is half-way up from their floating dock, approximately 24 of a total of 48 steps to reach the house, and the perfect spot to sit, congregate at sunset, or watch the kids play at water sports. It's a circular deck with benches built-in all around. Both the deck and steps are made of pressure treated lumber left to weather naturally.
Pressure treated lumber is known for its durability and value. It's a readily available material which can be painted or stained to complement the house. It also resists insects and rot. The downside? It does require power washing, sealing, and restaining almost annually. If you like the idea of wood but want to "kick it up a notch"? Consider redwood or cedar. They resist insects, decay, and can be stained, painted, or left to weather naturally. And if you really want to splurge, try exotic hardwoods like teak, ipe, mahogany and tigerwood, which boast rich colorations and resist mold and decay. They're also slip resistant and splinter free, bringing indoor comfort outside.
When working with your architect or house plan designer you might consider an alternative to wood construction. Composite decking as well as decking made from plastic, vinyl, or metal cost more than pressure treated wood but require only periodic cleaning with soap and water, or just a good rinsing with the hose.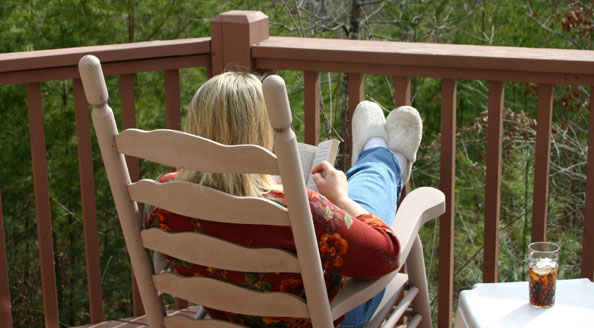 There have been big steps forward in composite as a "green" alternative for deck construction. Made from predominantly recycled materials, composite is resistant to termites, won't rot, warp or splinter, never needs paint or stain and is available in beautiful colors and combinations.
Companies such as Trex have been at the forefront of composite decking and are committed to helping create environmentally friendly, low-maintenance, high-performance backyard retreats that can handle the outdoors without depleting our natural resources.
Admittedly, composite costs more to buy than wood upfront but it can save you money over the life of your deck. Conversely, for the purist, nothing can replace the look and feel of real wood. Because your weekends should be spent relaxing on your deck, not repairing it, you might consider the synthetic materials option when designing and creating your deck.
Do some research on your own on sites such as bhg.com, then work with your designer to select the perfect deck for you---wraparound, raised, freestanding, small space or rooftop retreat? Carefully consider layout, color, stairs, railings and accessories available. Remember, regardless of its size or function, a deck is the perfect addition to any family home.
I'm "Sittin on the dock of the bay watchin' the tide roll away"