What sets them apart from each other?
Outdoor living has gained tremendous popularity and outdoor living spaces are increasingly being included in the house plan design and construction of the home. The choices include a lanai, patio, veranda or porch. So many times you find these terms used interchangeably but they have distinct characteristics and purposes. What sets them apart?
Wikipedia, for instance, defines Lanai as a type of roofed, open-sided veranda, patio or porch originating in Hawaii. Many homes, apartment buildings, hotels and restaurants in Hawaii are built with one or more lanais.
According to the real estate website Private Communities.com, a lanai should not be confused with an island in Hawaii! (Thank you for that). They define lanai as a roofed outdoor living space, also known as a patio or a veranda - or even a porch. While a patio can often be nothing more than a concrete slab connected to the back of the house, the lanai is intended to be a more defined outdoor living space, often, but not necessarily, screened.
While the term lanai has its roots in the Aloha State, "veranda" or "verandah" is Hindi in origin. The term patio is from Spanish, meaning "back garden" or "backyard". The terms also may have geographical differences. In many parts of the country-Virginia, for instance-a screened porch or sunroom is often called a lanai. Many home designers often use the various names based on the overall type and style of the house plan they are designing.
Advertisers frequently use the terms synonymously in an effort to "jazz up" their product, often leading to disappointment when you discover that the lanai you pictured as a beautiful oasis is nothing more than a concrete slab.
It's important to be on the same page with your architect or house plan designer when planning what you want for your new home's outdoor living space. So, let's take the terms one at a time and try to define what sets each of them apart from the other.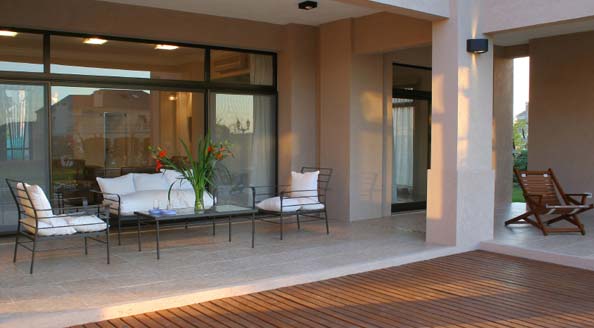 Lanai is most often defined as a roofed, outdoor living space. It's the Hawaiian word for porch and it can be furnished and used as an airy, open room adjacent to your pool area or secluded yard. It allows a home to expand outdoors and enjoy Mother Nature at her best.
Patio is an outdoor space generally used for dining or recreation that adjoins a residence and is typically paved. Durable patio surfaces can be created from paving slabs, bricks, block paving, tile, concrete, natural paving stones or cobbles. Your house plan designer can lead you in the type of finish you choose base on your needs.
Veranda is a roofed, open gallery or porch, often partly enclosed by a railing and it frequently extends across the front and sides of a structure. A veranda may be roofed with material that protects against sunlight but admits the other elements.
Porch comes from the old French porche or Latin porticus. It's a construction external to the walls of the main building and may be enclosed by latticework, screen, broad windows or other light frame walls extending from the main structure. Generous living porches, including some with outdoor kitchens, fireplaces or built-in grills, can become an important part of your home's floor plan.
An interesting bit of trivia I found on Wikipedia is that the longest porch in the world is 660 feet and can be found at the Grand Hotel, Mackinac Island, Michigan.
The more you learn about the definitions of lanai, patio, veranda or porch, the more you find similarities, as well as differences and understand how the terms can honestly be used synonymously. The creation and design of your outside living space should leave no doubt as to its purpose and unique characteristics. It's up to you and your architectural designer to make a statement which sets your house plan design apart.